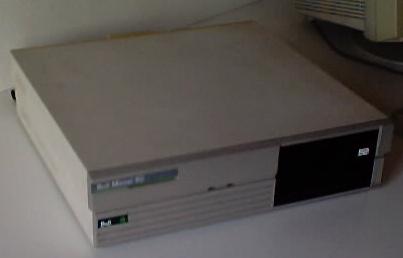 More Images: Image1 Image2 Image3
It was given to me by the teacher of my high school.
Hardware
Computer

AT Compatible

CPU

Intel R80286-8, L6500325

Coprocessor

None

BUS

AT ISA16

Memory

640Kb

Video

Hercules Graphics, integrated in mainboard.

Disk Controller

Western Digital (WDC'85) WD11C00C-JU, integrated in mainboard Supports two floppies and two MFM HDs.

Floppy Drives

Hard Disk

Seagate Model ST-225 - 21 Mb - MFM

Port Controller

Offers a Serial (16450) and a Parallel Port, integrated in mainboard.

Serial Ports

| | Address | UART | Speed | Format | IRQ |
| --- | --- | --- | --- | --- | --- |
| COM1 | 03F8 | 16450 | 2400 | 8N1 | 4 |

Parallel Ports

Keyboard

101 Keys Support, DIN Connector

Power Supply

220V, 50Hz, 1A

CMOS Battery

Two 1.5V AA Batteries
Mainboard configuration
As the video card is integrated in the mainboard, the computer has a switch in its back that lets you choose MONOCHROME or COLOR video output.
Software
BIOS

BIOS MICRAL 286, VERSION T1.1. 02/03/87

Operating System

Minix 2.0.0

Drives

Drive A: 360Kb
HD 20.3Mb (minix 1.4b+ fs)
CMOS configuration
You need a special boot disk for entering CMOS configuration. This is the image of the floppy (360Kb): Image. There were some CRC errors when dumping it, but the disk works; then the image might work too.
The CMOS Setup Disk offers the options in 4 languages: ENGLISH, GERMAN, SPANISH and ITALIAN.
The disk offers many options about displaying/modifying CMOS RAM contents.
Floppy A

360K, 5 1/4" floppy drive

Floppy B

None

Hard Disk 1

Type 002

Hard Disk 2

Not Present

Memory Expansion

0K

Arithmetic Coprocessor

Not Present
FILES
These files can give more detailed information about the computer and its configuration, and also some benchmarking.
Snooper's log

At the time of doing the log, the system was started up changing the 360K FD for a 1.44Mb one, and using a Caldera Opendos 7.02 boot disk.
Details
It may have a problem with its internal monochrome video card, because a column in each char fails. Concretely, the 2nd column of each char is wiped (black). I can't remeber if it happened in the first time I turned the computer on, because I used it with a VGA ISA16 Card.
Started 04/08/2001 / Updated 2002-03-16 23:16:26.000000000 +0100
---
[top] [home] [Software utilities]

Viric's Web Site / Webmaster: viric / Started 03/08/2001 / Updated mié sep 17 01:30:41 CEST 2003